Glitter Finance teams up with Indacoin.io
Nov 18, 2022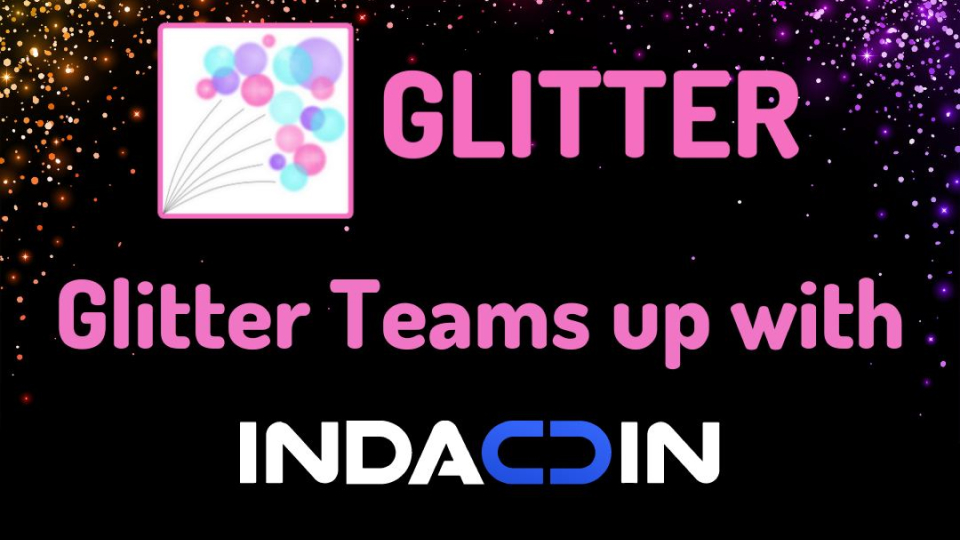 Today, we are happy to announce our partnership with Indacoin.io, a centralized partner that allows users to buy cryptocurrencies via a Visa or MasterCard. The platform offers users international fiat-to-crypto exchange with instant sell and buys options. This is part of our long list of collaborations and partnerships with important ecosystems that will ensure that we bring the everyday user into the crypto world seamlessly and help solve the problem that the DeFi market is facing today.  This year alone, there have been multiple cases of DeFi hacks and exploits, such as the Ronin and Wormhole hacks. People are no longer comfortable with having their assets in some of these bridges, and Glitter Finance, an innovator bridge in the DeFi space, is listening to its community members.
‍
Indacoin.io is a crypto exchange platform that provides users the unique opportunity to purchase more than 100 altcoins with their CeFi cards, particularly Visa and MasterCard. Indacoin.io's primary focus is on providing secure bank card payments and many crypto projects to sell their tokens seamlessly worldwide.
‍
David Dobrovitsky, the CEO of GlitterFinance, has this to say about the partnership:
"We understand our people and their heartbeats, and we have responded by partnering with Indacoin.io to help our community of users instantly off-ramp their assets from our bridge vaults."
‍
This partnership became important for us to provide the best service possible and increase the possibilities and ways of bridging the Algorand and the Solana ecosystem. Through this partnership, we will now give an opportunity to our community to purchase the XGLI, xALGO, and xSOL via a debit or credit card. This will also serve as an alternative way of bridging, whereby those uncomfortable with decentralized bridging can use a centralized vendor to bridge between the Solana and Algorand ecosystems.
‍
About Indacoin.io
Indacoin.io is a revolutionary fiat-to-crypto off-ramp bridge with Visa and MasterCard that processes transactions globally. The company has been developing anti-fraud software that has helped millions of end-users buy cryptos quickly and easily since 2014. Indacoin is one of the most significant actors in the cryptocurrency community, offering risk-free transactions for over 100 partners, with more than 100 cryptos to choose from.
‍
Anvar Sidorov, the director of partnerships at Indacoin, remarked on the news:
"Glitter Finance is a unique DeFi startup that is breaking the current technical and psychological barriers to DeFi. We are excited to partner with them and firmly believe in what Glitter stands for. The collaboration will offer their users the opportunity to off-ramp their crypto with our Visa or MasterCard global services."
‍
Glitter Finance has always listened to our community and has never failed to provide painless and less technical solutions for anyone to jump-start their DeFi journey. Partnering with Indacoin.io is yet another milestone in our quest to enhance cross-chain capital efficiency in DeFi.