Q&A with Glitter Finance CEO David Dobrovitsky - Part 1
Nov 18, 2022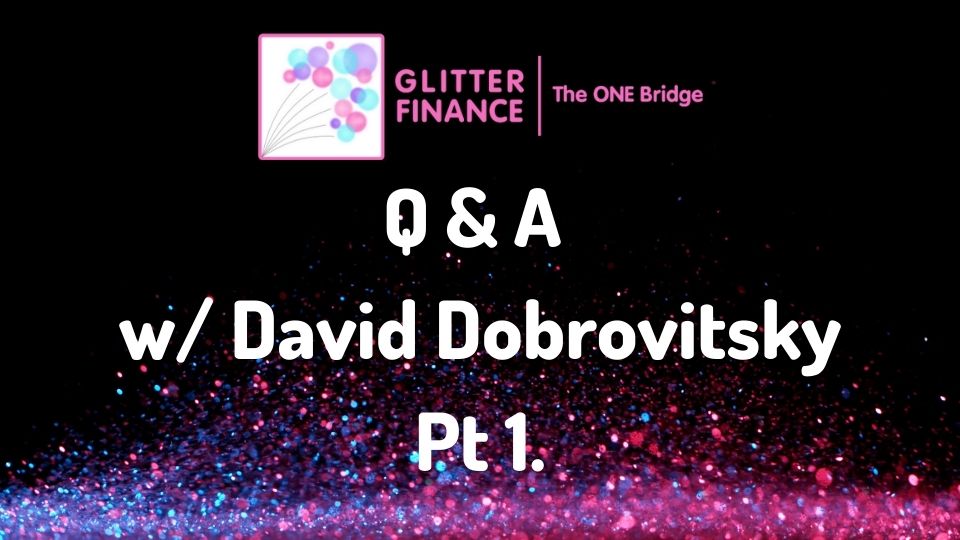 We took some time to sit down with David (Ilya) Dobrovitsky, CEO of Glitter Finance to learn about his background, his passions and the future plans for Glitter. David is a long-standing entrepreneur and expert in product development.
Can you tell the Glitter community a little about your background?
A long and complicated time ago I was a classically trained violinist. Having made a complete circuit of Carnegie Hall and street performing, I decided to switch to business, which makes me far happier. What attracts me most is the ability to play with money, to make it accessible and not scary. In switching to business, I started on the lowest rung, starting in sales, business development, working corporate, and later doing operations and management.
Along the way I was constantly developing various startups on the side, being attracted by the spirit of change, innovation, and inspiration. I was following my nose for where the best growth was. Eventually I got into blockchain. At first, blockchain seemed like a techie insider club, not for those who don't speak computer languages fluently. Then one day, my wife, who is an absolute visionary, got fed up with my complaining and told me that if I want in, make a road for the rest of us. That's how the concept behind Glitter was born, and my goal became to build a bridge for everyone and their mother to be able to use crypto.
How did you got first involved in blockchain and the cryptocurrency industry?
I had been working in cable engineering and business development. The company I had worked for was a major producer for highly engineered cables and supplied companies like Google, Amazon, etc. However, it was an economic downturn in the USA and so many people got laid off, including me. Several months had gone by and I couldn't find a job that would be suitable, and so I decided to look for alternatives. I was hired by an Eastern European blockchain marketing and development firm that wanted more English-speaking clients.
At first, blockchain seemed very intimidating. In fact, I was so uncomfortable with the technology that I had asked my wife to go online, read what blockchain was about, and tell me what it actually was. Not one to mince words, she drew me a diagram that involved boxes, arrows and money symbols, things I could totally understand, and so my career in blockchain started that evening. Eventually, I progressed to being a CBDO of a blockchain development firm. Outgrowing this position, I had developed my own network in the industry and decided to form my own marketing and development company.
Eventually, having the temperament of an entrepreneur, I got very attracted by then booming DeFi sector. It seemed at the time (this was around 2020), that DeFi was the hottest start-up sector out there, and that the opportunities were endless. Seeing the possibility to make a real impact, I convinced my very hesitant partners to come in with me into my new venture and back it as early investors. In doing so, I had converted my agency at the time into an incubator for new blockchain projects.
None of us are able to achieve success without some help along the way. Is there a particular person who you are grateful towards who helped get you to where you are? Can you share a story about that?
My wife Gail has been an incredible source of support and inspiration. I think I have shared at least two stories here about her, one involving her telling me what blockchain was, and the other about how she told me that, "someone needs to make blockchain accessible to normal people."
Another good story is when she made-up the "we are the best, gliterally" slogan for Glitter Finance, our company and project. I thought it made it sound much cooler than what it had been.
Can you share a story of a time when things went south for you? What kept you going and helped you to overcome those times?
Sure, I had a couple of partners that highjacked my first DeFi project. What kept me going in that moment is my family, a feeling of destiny, a feeling of inspiration to still work to create. At the end of the day, a real builder and entrepreneur can pick-up the pieces, and build something even better. This is exactly what I did.
Q&A with Glitter Finance CEO part 2 is here.
For the latest updates from Glitter.finance follow (https://twitter.com/GlitterFinance)[https://twitter.com/GlitterFinance], join our Telegram group and Discord server.